Special Delicacies Chosen by our Pub's Chef
Wild Boar Goulash with Cranberries and GingerBread – Dried Fruit Dumplings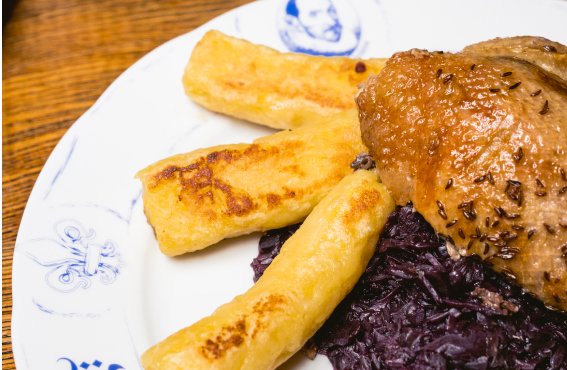 Roast Duck with Red Cabbage with Jam and Raisins and Potato Cones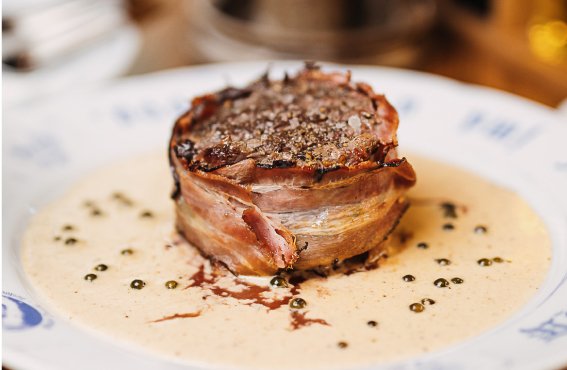 Beef Tenderloin Steak wrapped in Bacon with Green-Pepper Sauce
Menu
Christmas Speciality – every Saturday and Sunday
Pheasant Legs on Root Vegetables
and Wild Spices with Spinach and Potato Puree
allergens (1a, 3, 7)
269 Kč
0,5 l Lorecká 14′
Special Beer from Local Brewery
56 Kč
Old Bohemian and Moravian Specialities
Dill Sauce with Baked Beef and Bread Dumplings
allergens (1a, 3, 7)
199 Kč
Beef Baked in Cream Sauce with Bread Dumplings
(beef, cream sauce, lemon, cranberries, whipped cream and bread dumplings)
allergens (1a, 3, 7, 9, 10)
259 Kč
Beef Cheeks in the Rosehip Sauce with Potato Purée
allergens (1a, 7, 9)
299 Kč
Moravian Smoked Pork Special with Spinach and Potato Cones
allergens (1a, 3, 7, 9)
209 Kč
Wild Boar Goulash with Cranberries and GingerBread – Dried Fruit Dumplings
allergens (1a, 3, 7, 9)
279 Kč
Giant Pork Escalope with Viennese Potato Salad
allergens (1a, 3, 7, 10)
299 Kč
Big Chicken Schnitzel with Viennese Potato Salad
allergens (1a, 3, 7, 10)
269 Kč
Potato Dumplings with Shredded Duck and White Cabbage and Fried Onion
allergens (1a, 3)
249 Kč
Roast Turkey Breast with Red Cabbage with Jam and Raisins and Potato Pouches with Plum Jam Filling
allergens (1a, 3, 7)
259 Kč
Roast Duck with Red Cabbage with Jam and Raisins and Potato Cones
allergens (1a, 3, 7)
329 Kč
Starters
Grilled Camembert type of Cheese with Herbs and Small Salad
allergens (7), gluten free
149 Kč
Game Pâté with Cranberries and Dried Fruit
allergens (1a, 3, 8a)
149 Kč
Mixed Beef Tartare with Red Onion, Garlic,
4 pcs of Toasted Bread
allergens (1a, 3)
199 Kč
Smoked Duck Breast with Raspberry-Cherry Sauce and Pear Salad
gluten free
199 Kč
Devilled Toast
(toast with piquant meat mixture)
allergens (1a)
139 Kč
Soups
Mushroom Potato Soup
(potatoes, wild mushrooms, root vegetables, garlic)
allergens (1a, 9)
79 Kč
Strong Beef Broth with Vegetables and Liver Dumplings
allergens (1a, 3, 9)
89 Kč
Main Courses
Roasted Saddle of Deer wrapped in Bacon with Port Wine Sauce
bez lepku
489 Kč
Pork Tenderloin with Creamy Wild Mushroom Ragout
allergens (7, 9, 10), gluten free
299 Kč
Burger with Shredded Pork, Onion Jam in Port Wine Sauce, Salad, Cheddar, Spicy Dip, French Fries
allergens (1a, 7, 10)
249 Kč
Baked Pork Knee on Black Beer
allergens (10), gluten free
369 Kč
Marinated Pork Ribs with Bread
allergens (1a, 10)
369 Kč
Beef Tenderloin Steak wrapped in Bacon with Green-Pepper Sauc
allergens (7, 10), gluten free
499 Kč
Farmer ́s Manger (for 2 to 4 persons)
(marinated baked pork knee, smoked pork, pork ribs, sauerkraut, gherkins, potato pancakes, baked potatoes)
allergens (1a, 3, 6, 10)
1490 Kč
Sir Mikuláš Dačický's "Dagger"
(pork tenderloin, chicken breast, sea salt, grilled vegetables with baked potatoes and spicy dip)
allergens (7, 10), gluten free
389 Kč
King's Sword
(beef steak, saddle of deer, grilled pork tenderloin, chicken breast with bacon)
gluten free
1690 Kč
Meatless Dishes
Fried Smoked Cheese with Tartare Sauce
allergens (1a, 3, 7)
179 Kč
Spinach Pancakes Sprinkled with Cheese
allergens (1a, 3, 7)
189 Kč
Wild Mushroom Ragout with Bulgur
allergens (1a, 7)
209 Kč
Dill Sauce with Hard-Bolied Egg and Bread Dumplings
allergens (1a, 3, 7)
189 Kč
Salads
Mixed Vegetable Salad
(green salad, cherry tomatoes, peppers, cucumbers, olive oil)
gluten free
139 Kč
Creamy Goat Cheese in Wallnuts with Honey – Marinated Pear and Mixed Salad
allergens (7, 8c, 10, 11), gluten free
229 Kč
Mixed Vegetable Salad with Chicken
(green salad, cherry tomatoes, peppers, cucumbers, chicken breast, olive oil, sour cream with herbs)
allergens (7)
219 Kč
Side Dishes
Potato Purée
allergens (7), gluten free
55 Kč
Baked Thyme Potatoes
gluten free
59 Kč
Lard Baked Potato Cones
allergens (1a, 3, 7)
59 Kč
Potato Pancakes
allergens (1a, 3, 7)
59 Kč
Potato Pouches with Plum Jam Filling
allergens (1a, 3, 7)
69 Kč
Bread Dumplings
allergens (1a, 3, 7)
55 Kč
Gingerbread Dumplings with Dried Fruit
allergens (1a, 3, 5, 6, 7)
79 Kč
Homemade Bread and Roll
allergens (1a, 6, 11)
29 Kč
White Cabbage / Red Cabbage with Jam and Raisins
allergens (1a)
49 Kč
Sauces – mushroom, pepper, cold spicy sauce
allergens (1a, 6, 7, 10)
75 Kč
Sweet Temptations
Homemade Fruit Tart
allergens (1a, 3, 7,)
79 Kč
Apple Strudel with Vanilla Sour Cream and Cherry-Raspberry Sauce
allergens (1a, 3, 7)
109 Kč
Pancakes Stuffed with Homemade Nut Cream and Vanilla Sour Cream
allergens (1a, 3, 7, 8c)
1 pc / 129 Kč
2 pcs / 179 Kč
Drinks
Beers
Beer on Tap
Beer Degustation
(6 x 1,25 dl Mikuláš 12° Dark Lager, Kutná Hora Lager, Kasteel Rouge, Weizenbier, Pilsner Lager, beer of the day)
179 Kč
Kutná Hora Zlatá 12° – Beer from Tank
Local beer produced by renewed brewery. A lager with a more distinctive but still decent bitterness. Goldish colour and full, rich in body. This Gold 12 was not fitrated nor pasteurized. The taste is the same like you would drink it straight in the lager cellars in the brewery. Contains 4,9 % of alcohol.

0,3l 38 Kč
0,5l 56 Kč
Mikuláš 12° Dark Lager

It is specially brewed according to its own recipe for our restaurant. It has a delicate bitter taste and a sweet fragrance of coffee. It contains 4,9 % of alcohol. Originates from Brewery Kutná Hora
0,3l 38 Kč
0,5l 56 Kč
Kasteel Rouge
It is a unique blend of Kastel Donker and sweet cherry liqueur. The mix of these two excellent products creates an exceptional soft beer with references to the dark mother beer. Contains 8,0 % of alcohol. Originates from Belgian brewery in Van Honsebrouck
0,25l 89 Kč
Pilsner Lager
The bottom-fermented pale lager Pilsner Urquell, which, due to the quality of the raw materials, water, own brewery east culture has gained an inimitable harmonic pleasantly bitter flavour and quality. Contains 4,4 % of alcohol
0,3l 38 Kč
0,5l 54 Kč
Weizenbier
Top-fermented light-color wheat unfiltered yeast beer of specific aroma, taste and appearance. Contains 5 % of alcohol.
0,3l 38 Kč
0,5l 56 Kč
Beer of the Day Whatever Our Bartnender Likes
Non-alcoholic Beers
Radegast Birell, flavoured
0,5l 49 Kč
Wine
House Wine
Cabernet Sauvignon rose semi-sweet
0,2l 59 Kč
0,5l 129 Kč
Prosecco
Bedin Extra Dry, Prosecco Treviso DOC
0,1l 69 Kč
0,75l 449 Kč
Bedin Rosé Brut, Prosecco Treviso DOC
0,1l 69 Kč
0,75l 449 Kč
Ca ́di Rajo Lemoss, Col Fondo, IGT
0,75l 449 Kč
Žáček Winery, Kutná Hora
Zéta White Czech Land Dry
0,1l 59 Kč
0,75l 399 Kč
Nosreti Winery, Zaječí, South Moravia
Green Veltliner – cabinet dry
0,1l 59 Kč
0,75l 399 Kč
Traminer Red – late harvest, semi-dry
0,1l 59 Kč
0,75l 399 Kč
Pinot Blanc – selection of grapes, semi-sweet
0,1l 59 Kč
0,75l 399 Kč
Rosé Wine
Cabernet Moravia Rosé – late harvest, semi-sweet
0,1l 59 Kč
0,75l 399 Kč
Red Wine
Lemberger – Moravian Land, dry
0,1l 59 Kč
0,75l 399 Kč
Neronet Exclusive Moravian Land Dry, oak barrel
0,1l 59 Kč
0,75l 399 Kč
St. Lawrence – Moravian Land, dry
0,75l 399 Kč
Hot Drinks
Hot Peppermint Tea with Honey
79 Kč
Roasted Fruit Tea with Honey
79 Kč
Domestic Rum with Hot Water
89 Kč
Hot Plum Brandy with Honey
4cl 99 Kč
portion of coffee 7g | plant milk 15 Kč
Soft Drinks
Homemade Hibiscus Iced Tea
0,35l 69 Kč